A service station, drive-through bottle shop and overnight truck parking are just some of the big plans in motion for Swaggies Westwood Hotel.
The pub, a 40-minute drive from Rockhampton on the Capricorn Highway, has even had a name change, with the addition of Swaggies, a nod to the swagman statue on the pub's veranda.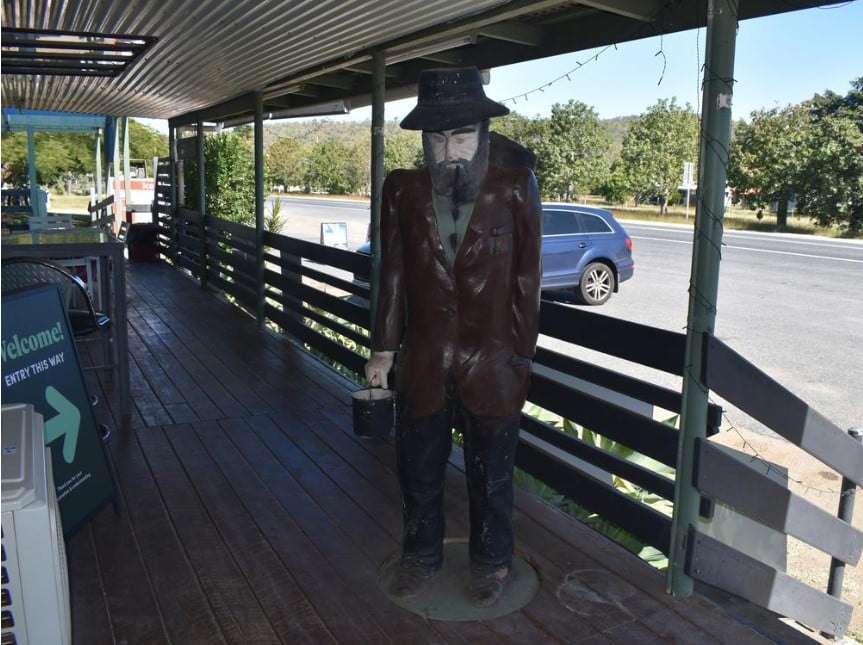 New publican Kacee Neinart took over the hotel on March 1 after she found out it was closing.
"10 days later we were open again," she said.
"It's been a really positive experience.
"Everyone is really happy to see that it's happening again, it's alive."
A qualified chef herself, Ms Neinart has years of experience working in management in hotels and pubs in Rockhampton.
She has done up a new menu and the cafe has a focus on baked goods, including homemade sausage rolls and pies.
"Everyone is really enjoying the food we are putting out," Ms Neinart said
There are also some social events in the works to bring crowds to the pub.
"We have done karaoke days with Pizza on The Run (food truck)," Ms Neinart said.
"I've got some live entertainment plans coming up, we've had social groups, like the car groups from in town coming out and doing lunches on the weekend.
"Blackwater social club are going to do a poker run in September, Harley owners group is coming back in October to do a reunion."
The pub supports the Westwood school and the local community fire brigade with its cans and bottles recycling.
"We are about to launch a social club with raffles and all that, and the proceeds will go to the school and fire brigade," Ms Neinart said.
"It's just about supporting what's around us, our little community and making sure we offer the best we can for our community."
Construction is also set to begin later this year on a service station and drive-through bottle shop on the vacant land next to the hotel.
The hotel's owner, Mandeep Singh, owns a number of independent service stations in Rockhampton including the BP at Aquatic Place that has changed over to the pink Boost Fuels brand, Lakes Creek Road service station and the BP on Bridge Street near the caravan park, along with the Bluff service station.
"He is very competitive with his pricing and likes to always make sure he has the lowest fuel prices available for consumers," Ms Neinart said.
The development was approved by council in September last year and is allowed to operate 24/7 and will have underground fuel storage of 65,000 litres of fuel and 80,000 litres of diesel.
The closest fuel station is at the Stanwell Store, 26kms away.
There isn't a service station with access for road trains for 110kms, between Gracemere and Duaringa.
There are also plans for a big pad for overnight truck parking at the rear of the site.
The development's construction is expected to take a couple of months and the hotel will stay open throughout.
"The hotel is the iconic place, we are doing things around the hotel to make it come back into age and support the building as it is," Ms Neinart said.
"Not a lot of people will stop in Westwood other than the fact we have the pub here, just with the fuel station and free camping, we are giving more people the chance to discover the Westwood community."
Extracted from The Chronicle