Key points:
The enduring drought is driving fresh food prices up, particularly fruit, meat and dairy products
Moderate increases in housing costs and falls in international travel and some clothing lines kept overall inflation contained
Core inflation remained below the RBA's target, but improving jobs data means another rate cut is unlikely next month
A spike in petrol prices at the end of the year and drought-driven food shortages have pushed inflation higher, but not by much.
Consumer prices rose 0.6 per cent in the December 2019 quarter to be 1.8 per cent higher over the year.
The Reserve Bank's preferred measure of core inflation, which strips out volatile items such as food and fuel, was 0.4 per cent over the quarter and 1.6 per cent for the year.
It is the 16th consecutive quarter that core inflation has undershot the RBA's 2 to 3 per cent target band.
The Australian Bureau of Statistics (ABS) said the most significant price rises in the quarter were tobacco (+8.4 per cent), domestic holidays, travel and accommodation (+7.3 per cent), automotive fuel (+4.4 per cent) and fruit (+6.8 per cent).
The most significant price falls were international holidays, travel and accommodation (-2.9 per cent) and women's garments (-2.5 per cent).
"Drought conditions are impacting prices for a range of food products," ABS chief economist Bruce Hockman said.
Overall food inflation increased 1.3 per cent in the December quarter with significant rises in the price of beef and veal (+2.9 per cent), pork (+4.7 per cent), milk (+1.7 per cent) and cheese (+2.4 per cent).
"Both the impact from the drought and lower seasonal supply contributed to price rises for fruit (+6.8 per cent) this quarter," Mr Hockman said.
"Annual inflation remains subdued partly due to some price falls for housing-related expenses."
Utility prices fell 1 per cent, while rent increases remained modest (+0.2 per cent) and price rises for new homes were surprisingly flat (+0.1 per cent).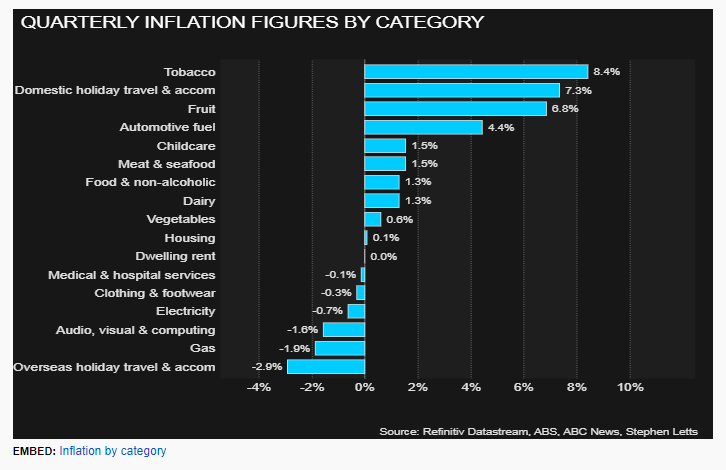 Rate cuts pushed further back
The Australian dollar edged higher on the news, as expectations of a rate cut were pushed further over the horizon.
Westpac's senior currency strategist Sean Callow said the market was now pricing in a less than 10 per cent chance of a cut at the RBA's February meeting.
However, Mr Callow said a rate cut was more likely delayed than shelved.
"Westpac expects GDP growth to disappoint RBA and looks for April and August rate cuts," Mr Callow said.
Capital Economics' Ben Udy said the slighter higher core inflation reading was likely to be temporary, and on-going weakness in the economy would keep a lid on price rises in the coming months.
"The pick-up in inflation in Q4 should be the final nail in the coffin for hopes of a February rate cut, but we think weak activity and easing price pressures in 2020 will force the RBA to cut again," he said.
"The combination of strong retail sales data in November, the decline in the unemployment rate in December and the pick-up in inflation in Q4 means the RBA will almost certainly leave rates on hold in February.
"Even so, we think economic activity will remain subdued in 2020 and expect underlying inflation to decline again before long. The RBA therefore still has more work to do."
Extracted from ABC