Independent Retailer Spotlight: Brians Auto Centre – Miami QLD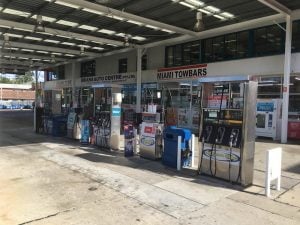 Brians Auto Centre is on the Gold Coast Highway at Miami in QLD.  Daryl Holdsworth, Manager of the site shared some great insights around how he runs this Service Station which is famous in the local area.
The owners of the site have steered clear from any major branding, instead sticking with the well known Brians Auto Centre name.  They prefer to have full control over the business and not have to answer to one of the major brands. This is mainly due to a bad experience with one of the major fuel suppliers several years ago.
Being on the Gold Coast, this business is in a very competitive market.  Rather than focusing on trying to beat their major competitors on price they are instead focused on good old fashion service.
While I was in the store chatting to Daryl, a customer approached the counter and was blown away by the driveway service.  When she pulled in and the driveway attendant started to open her fuel cap she didn't know what was going on as she hadn't seen driveway service in years.  After passing on much praise, she left the store raving about the experience and exclaiming she would definitely be back!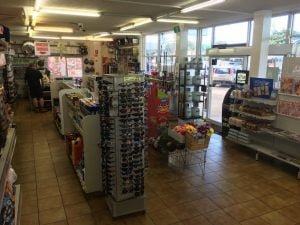 This prompted a discussion around whether it is sustainable to keep up driveway service.  With the rising costs of wages, while it is a great point of difference it can be a big cost to doing business.  But as Darryl said, it is hard to stop as they have been doing it for the last 40 years and the customers expect it.  When there are no cars in the driveway (which isn't very often) the driveway attendant also fills gas bottles so customers don't have to come back to pick them up.
MotorCharge and MotorPass are a popular payment method at this site.  Darryl advised that he had spoken to Fleet Card recently and they are trialling an electronic terminal which is fantastic news for Independent retailers.  The Fleet Card electronic terminal should be available to retailers very soon.  Until now many retailers have steered away from offering Fleet Card with the time-consuming paperwork involved and having merchant slips returned because a staff member has recorded incorrect details.
For their POS they have been using Beacon which Darryl said is fantastic.  When he was looking at POS systems, Beacon was the only option that had everything they needed.  They have made a few changes to the POS to suit their type of business which Beacon have been very helpful with implementing.
Darryl has been working on a new shop layout to give the store a fresh new look and to improve shop sales.  He has purchased new shelving and as soon as he gets a chance he will be setting it up.  A priority is to get impulse and promotional items to a more prominent location in the store.  They have a large range of bait and tackle which is a top selling category.  Daryl emphasised the importance of only stocking products that are great sellers.
I am looking forward to returning to the site soon to see the new store layout.  I will share some 'after' photos when the store is completed.
Big thanks to Daryl Holdsworth for sharing some insights with us.